Resume
Online version - A traditional PDF one is available at the
bottom
of this page.
Tim C. Schröder
Experienced Software Engineer
Systems Programming · HPC · Functional & OOP · Computer Graphics
---

Solving challenging parallel programming problems, large datasets, realtime constraints, researching and implementing algorithms on everything from a game console to a supercomputer. Writing maintainable and efficient code for shipping software products. Diverse computer graphics background, including games and physically based rendering. Genuinely enjoy learning new things and teaching others.

---
10+ Years · My Story So Far
AAA PC & Console Games

Rendering Technology for Film, CAD & Scientific Visualization

Motion Synthesis Middleware

Parallel Processors for Entertainment, Science & Mobile

Investment Banking

2001





I had the opportunity to work at several great companies during my career. I enjoy learning new things and working with talented people.





Present


Full details in the PDF version
Skills

The companies and projects listed on this site gave me the chance to become familiar with a wide variety of different tools, technologies, languages, platforms and algorithms. Here's a slice of what I've come across.
You can click on the individual tiles for more information
Projects
Two-Page PDF Version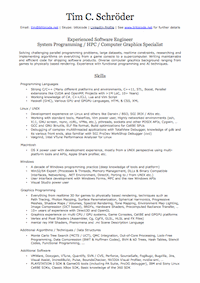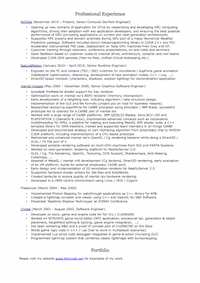 Click to download
Next Steps
Download PDF ▹
Browse Projects ▹
Contact Me ▹